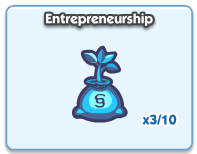 Entrepreneurship is a collectible used for upgrading. (You can use Special:WhatLinksHere/Entrepreneurship to find the list of buildings that use this collectible for upgrade. Last part not working yet...)
This collectible was issued with the limited-time Academia Nuts -themed quests starting on the 12th of October 2012.
You can carry only 10 pieces of Entrepreneurship in your inventory.
This rare collectible can only be obtained by sending your registered University Students to work at Businesses.
Ad blocker interference detected!
Wikia is a free-to-use site that makes money from advertising. We have a modified experience for viewers using ad blockers

Wikia is not accessible if you've made further modifications. Remove the custom ad blocker rule(s) and the page will load as expected.