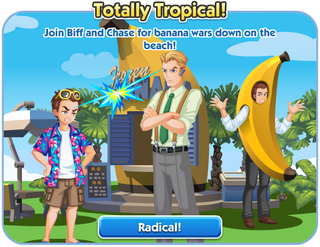 The Totally Tropical questline was introduced on 27th March, 2013.
Impressed with developments on the new Island, the legendary SimTropics hotel brand has decided to invest in your city. As you receive the SimTropics Resort and build it to 3-Star in your city, Biff and Chase are fighting for the catering contracts.
A friendly wager is formed between the two business moguls. Whoever can sell the most Frozen Bananas will win the year contract to provide fine cuisine at the SimTropics Resort. Help Biff and Chase set up this gentleman's contest and then make sure the rules aren't broken as you provide more facilities for the SimTropics grand opening.
New Items
Edit
New Collectibles
Edit
Final Reward
Edit
Ad blocker interference detected!
Wikia is a free-to-use site that makes money from advertising. We have a modified experience for viewers using ad blockers

Wikia is not accessible if you've made further modifications. Remove the custom ad blocker rule(s) and the page will load as expected.